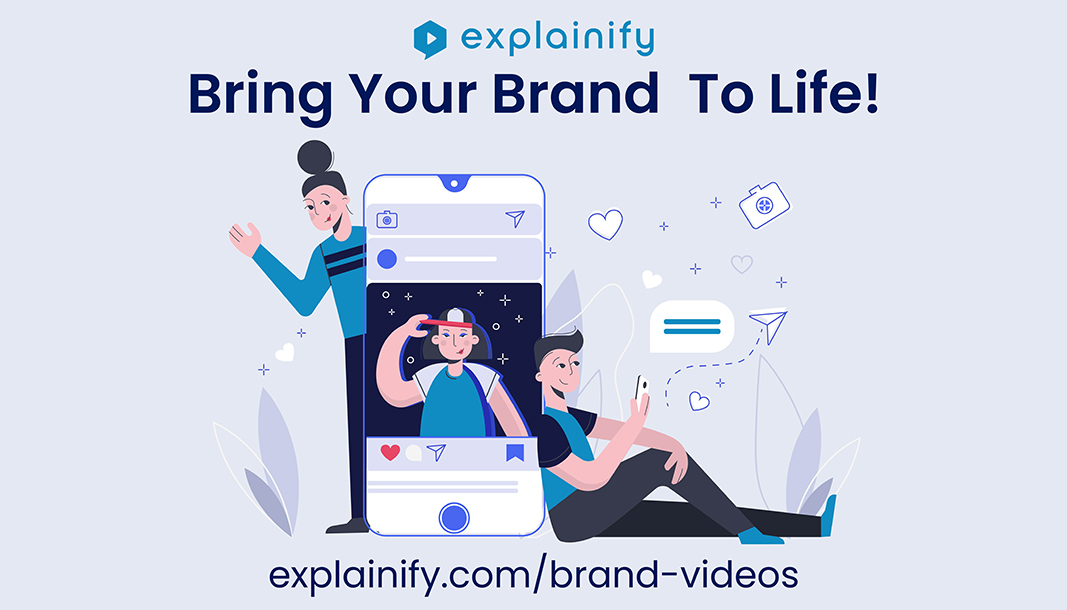 Top 5 Reasons Why Explainer Videos Are So Effective
Explainer videos are short videos (usually under 90 seconds) that explain a complex business idea in an approachable and exciting way. Explainer videos often take the style of animated GIFs because their striking graphics rapidly grab viewers' attention and make it clear how the product or service will help them. To elaborate, an explainer film provides a primer on a particular topic, such as the benefits of a newly released product or service, the history of a company's brand, or the steps involved in using a specific program. An explainer video can double as a quick introduction to a service or program. Last but not least, explainer videos might entice viewers to check out your website for additional information about a service, product, or business. An explainer film can also be used to advertise your company's ethos and values, which can help to increase consumer involvement and brand awareness.
What Makes Explanation Videos So Powerful?
Now that you know what an explainer video is for in the broadest sense, we can discuss why they are so successful. Once you see the value of using explainer films in your marketing strategy, you'll want to include them in every video campaign.
1. Videos Are More Effective Than Words.
According to recent data, video is the most effective medium for converting leads into purchases. Watching videos is an excellent way for customers to learn more about a company and its goods and services. The benefits of a product or service can be better communicated to consumers through videos. For one thing, customers recall more information from viewing videos than reading text; 95% of a message is retained via video.
Even more impressive is that 95%+ of consumers who were asked said they had watched an explainer film to learn more about a product or service. The data shows that customers are interested in watching videos and actively seeking them out. As a result, explainer videos are the most popular type of video used for advertising.
Customers will much rather watch a video than read text or look at a manual. The structure, duration, and content are far more appealing and effective. When polled, nearly 90% of consumers said they wanted to see more video content from their favorite businesses.
2. Using An Explainer Film Simplifies The Process Of Describing A Service's Functionality.
How-to videos and service pitches that highlight the benefits to the user are perfect candidates for "explainer" videos. Instructive videos are more engaging and effective than plain text because they provide a visual representation.
3. Using Videos Will Increase Your Sales.
Customers are more likely to buy after watching an explainer video because they are more engaged and the video provides a clear answer to a problem. Forbes is just one of many publications that have reported that ninety or more percent of consumers say watching a video significantly influences their purchasing decisions.
4. The Prices Of Explainer Videos Are Reasonable.
You don't have to go into debt to produce an explainer video for promotional purposes. Thanks to today's technological advancements, even high-end, professionally built videos can be created for a reasonable price. You can trust that a professional video marketing firm will make a polished and superior video that accurately represents your brand and message. Doing this is crucial since it will set your company apart from the rest…
5. You Can Easily Differentiate Yourself From The Competition Using An Explainer Video.
Explaining explanation videos is still very uncommon (even though they should be). Having explainer videos up and running across various marketing channels and video platforms like YouTube will not only give you a leg up on the competition. Still, they will also boost your site's search engine rankings, making it more likely that potential customers will come across your site before they do.
Conclusion 
If you want to increase your business's exposure, it's time to incorporate explainer films. You can do this in various ways, such as through social media and video-sharing sites, as well as on your website and landing pages. Hiring a professional video marketing agency is a smart move because they can assist you in creating a top-notch video and advise you on the best platforms to distribute it. The professionals in the field of video marketing will be able to pinpoint your target demographic and the media they are most likely to frequent. They will also be able to take complex ideas and problems and present them in a way that is easy to understand and implement.